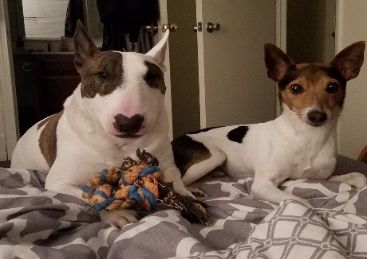 These are my two "kids" Sargent Tucker and General Patton. If they ever got lost, I would be more than devastated. They are definitely house dogs, and I do believe they would never want to be without me. However, I will admit they have run out of the house or backyard to go see the dog across the street… More than once. They definitely don't go far, but it scares me to death. Luckily, they both have microchips!
A pet with a microchip is 20 times more likely to be reunited with their family. According to HomeAgain.com, 1 in 3 pets go missing. While having a microchip won't guarantee your pet's safe return, it will increase the odds greatly. Realistically, a collar and tags are also not a safe bet, as they can easily fall off or get caught on something.
Additionally, there are several things to remember when your pet does have a microchip. Having your veterinarian scan your pet at each annual visit will ensure that the chip is active, in the same location, and easily readable. Although it is very rare, some microchips can lose their ability to be read, so a quick scan at your clinic or hospital can put your mind at ease. If for some reason the chip has lost it's encryption, the company will replace it at no charge. Keeping your contact information up to date is also extremely important. And if you are kind enough to adopt a pet, the contact information will still be under the shelter that purchased the chip until you update it.
Microchips generally cost around $30, and the process is quick and relatively painless. It is performed with a needle slightly larger than what is used to administer vaccines. For the small price you pay you definitely get a lot more peace of mind. So, if your pet isn't microchipped, go get it done today!